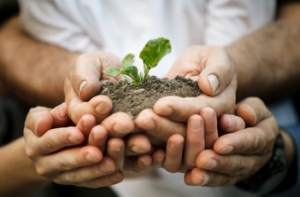 From the end of the 1980's, our growers, pioneers in their region, decide to diversify their production, mainly cereals, and start growing potatoes. Willing to defend their interests, and supported by
S.C.A.R.A.
(Société Coopérative de la Région d'Arcis-sur-Aube), they decide to create
Top Pom
, a company composed of around twenty growers, "big" and "little", where quality is the priority, in the Aube department, Champagne-Ardenne region.
The founding idea of Top Pom was to federate a group of growers in order to obtain the best possible value for their production, and this idea has been reinforced over the years, with the establishment of a "Trading Commission", where every week growers and commercial team decide together of the commercialization strategy, doubled by monthly meetings by the Board of Directors, mainly composed by growers, that adopts the strategic decisions of the company.
Top Pom is also an open group, nourishing a spirit of partnership and of trust all along the production and commercialization chain, in a system where growers and commercial people discuss openly, and where new growers are always welcome.