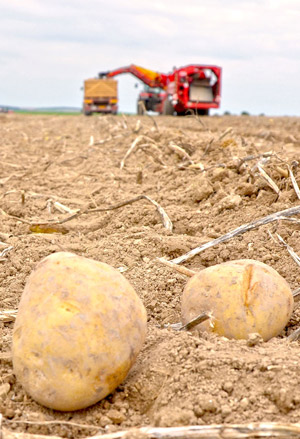 Today,
Top
Pom
, with a production of
more than 700 hectares, a storing capacity of almost 50 000 tons, a loading capacity of more than 50 trucks a day
, and trading an annual volume all varieties included of around
100 000 tons
, is one of the French and European leaders in the international markets. At
Top Pom
, we consider that our clients are also our partners, and it is in this spirit that we approach them and that we build our relationship with them.
Along the years, nourishing this idea and willing to provide our clients 365 days a year, Top Pom's activity has expanded beyond the Champagne-Ardenne frontier, to the main French potato production regions: Beauce, Seine-Maritime, Picardie and Nord-Pas-de-Calais, where our growers are selected for their know-how and for the quality of their potato production.
More recently, with the same idea of providing our clients 365 days a year, our activity has expanded to the French and Spanish new potato production regions, where we partner with the growers selected by the quality of their new potato.